Ariana Grande & Pete Davidson Hit Disneyland After Shocking Engagement News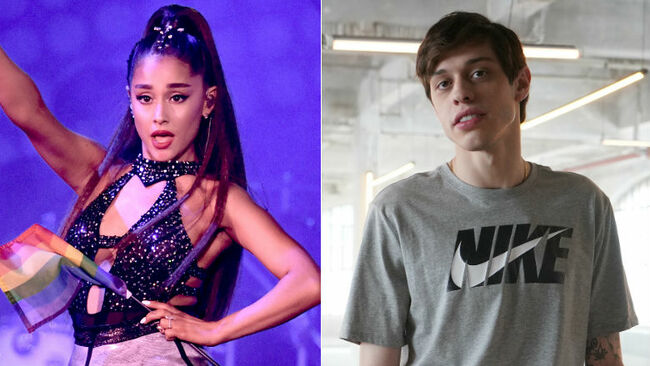 Ariana Grande and Pete Davidson took to Disneyland on Monday (June 11) after news broke that the 24-year-old stars are set to marry one another after just weeks of dating.
During the outing, the pop star documented things on her Instagram Story, sharing videos of the SNL star offering up silly faces and sounds mid-ride. Her captions didn't make any reference to the breaking news, but she did seem to have fun with her fiancé. "Another take. I really like this one," she captioned one of the posts, before getting a little dirty with another, writing, "When I got on top." Grande and Davidson were also spotted via the @DisneylandCelebrities Instagram account, which captured footage of them getting out of the front seat of a rollercoaster.
"It's a recent engagement. They're just two people who found love quickly and make each other happy all the time. They both started talking about it this past weekend. It's nothing they've been hiding," an insider close to the situation revealed to PEOPLE.
News of the pair's engagement arrived only weeks after it was announced that Grande had split from Mac Miller. After breaking things off with the rapper, the singer took to Twitter to hit back at a fan, who accused her of leaving Mac without any support. "I am not a babysitter or a mother and no woman should feel that they need to be. I have cared for him and tried to support his sobriety and prayed for his balance for years (and always will of course) but shaming/blaming women for a man's inability to keep his sh*t together is a very major problem," she wrote. "Let's please stop doing that. Of course, I didn't share about how hard or scary it was while it was happening but it was. I will continue to pray from the bottom of my heart that he figures it all out and that any other woman in this position does as well."