Lili Reinhart Says Filming Riverdale Season 3 Is 'Testing Her Acting Chops'
Filming for the third season of The CW's hit show Riverdale is underway and the cast has been sharing some cute behind-the-scenes photos / videos on their social media accounts. From an adorable photo of Cole Sprouse holding a tiny puppy - my heart! - to Lili Reinhart's makeup trailer Instagram Stories, it's making fans of the show even more eager for Riverdale to return.
Lili just stirred the pot even more after posting a cryptic Insta story about filming the upcoming season premiere. She shared a makeup free selfie with the caption "Riverdale seas 3 premiere is really testing my acting chops. You're going to flip out." Um, excuse me? Flip out? What could it all mean?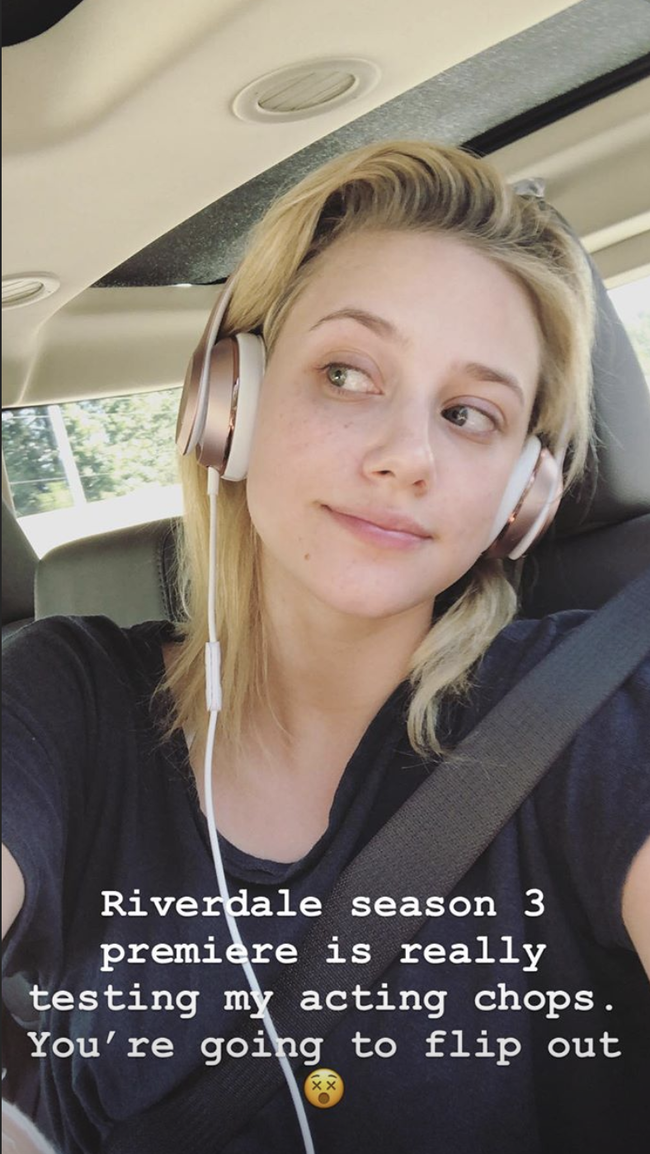 The sophomore season of Riverdale was - to put it lightly - completely bonkers. Betty did a strip tease at a biker bar to join a gang even though she's, you know, in high school. There's a serial murderer known as The Black Hood on the loose killing people for various "sins." Archie becomes an FBI informant. Jughead is beat up and left for dead. There's a lot going on in Riverdale and I can't figure out when these kids get their homework done. They're excellent multi-taskers, apparently.
The season two finale set up the show for an equally bonkers season three, so combined with Lili's cryptic Instagram post, fans are desperate to know what could possibly happen in the premiere that's testing Lili's acting abilities. Unfortunately, we all have to wait for our burning Riverdale questions to be answered.
According to the official Archie comics Twitter account, the third season of Riverdale will premiere on Wednesday, October 10th at 8pm. But who's counting?