The Knocks & Foster The People Bring 'Ride Or Die' To 'Stephen Colbert'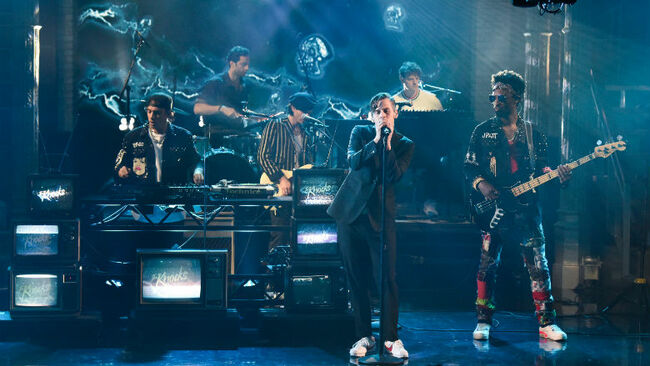 The Knocks are ramping up their promotional schedule for their new album, New York Narcotic, which drops September 28, and Monday night (September 10) saw the dance duo offer up a new performance of "Ride or Die" featuring Foster the People on The Late Show with Stephen Colbert.
During the four-minute set, the acts teamed up for an electric rendition of the single, which kept Mark Foster's soothing vocals at the forefront of the summertime number. "We can do this every night/ You can be my ride or die/ And we can live this way every day/ Go out like dynamite, I'm living life, ride or die," he sang to the late-night audience. "Ride or Die" serves as New York Narcotic's second single, preceding the release of "Shades" and "Goodbyes" featuring Method Man.
In a recent interview with RESPECT mag, the dance duo spoke about how their upcoming LP feels more "authentic" than their debut album. "We are very proud of our first album, but it was pretty feature heavy and didn't necessarily touch on who we are and what we stand for," the band recently admitted. "For this album, we took a year and half off of touring to work on it and figure out exactly what we wanted to say and what direction creatively we wanted to go in. This body of work tells a story about our lives and our relationship to NYC. JPatt is singing and rapping on almost every song this time around and B-Roc's production and melodic approaches are much more in line with our musical tastes."
Click here to pre-order The Knocks' New York Narcotic on iTunes.