Blac Chyna & Alexis Skyy's Fight Was Reportedly Over Rob Kardashian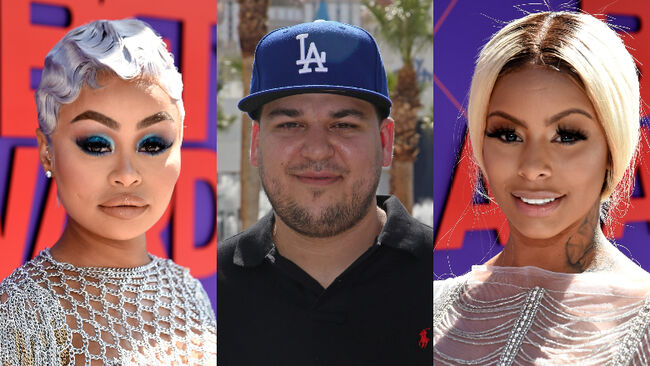 There are always two sides to every story!
Despite Alexis Skyy's initial claims that Blac Chyna randomly threw a drink at her at a party last weekend, multiple sources told TMZ the ladies' relationship with Rob Kardashian was actually at the center of their drama.
As previously reported, Alexis, who has been friends with Rob for over three years, claimed shortly after Chyna invited her into her section at a Los Angeles house party, she "out of nowhere" asked her to leave. While the Love & Hip Hop star admitted she was shocked by Chyna's abrupt request, she said she eventually got up to leave. However, before she could exit the section, Alexis claimed Chyna threw a drink on her, which caused her to try to fight Chyna. "So at that point, she starts throwing a drink … so when you want to throw a drink, we start throwing hands," Alexis said on Instagram Live after the incident. "So from there on, whatever happened, happened...I got kicked out."
However, sources connected to both women recently told TMZ that Chyna "did not simply invite Alexis over for a friendly chat" during the party. In fact, the true meaning behind the former reality star's desire to speak with Alexis was to set her straight about her past interactions with Rob. Chyna apparently felt that some of Alexis' behavior during Chyna and Rob's relationship was inappropriate, and she finally wanted to clear the air.
However, it now looks like everything has backfired for Miss Chyna. As fans know, Rob declared Alexis is "WCW" less than 48 hours after the fight, making his allegiances known. Not only that, but he also shared photos and videos of Alexis making him dinner shortly after his initial "WCW" post. Even after being accused of hanging out with Alexis to spite Chyna, Rob defended his friendship with Alexis on Twitter, saying, "Me and Alexis known each other for 5 years so stop with that."
Photo: Getty Images