Britney Spears' 'Slave 4 U' Funko Doll (Snake Included) Is Heading Your Way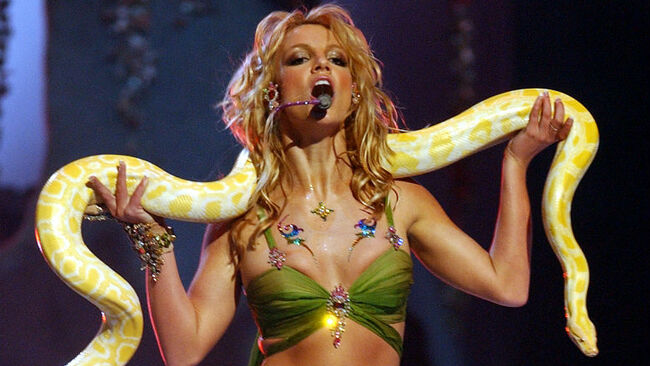 Heads up, Britney Army! You might be waiting until 2020 to see the pop titan strut her stuff in her Las Vegas residency, "Domination," but the folks over at Funko are helping you deal with the wait with their second release modeled after Spears.
Earlier this week, Funko announced that they'll be dropping a new doll modeled after the singer's iconic 2001 MTV Video Music Awards performance, where she draped a 7-foot albino python around her neck and debuted her smash hit, "I'm A Slave 4 U." The new figurine, which is set to be released at the end of the month, features a replica of Spears' performance outfit, as well as the snake and her signature headset. While she looked like a pro handling the snake during the number, Spears told Entertainment Weekly at the time that the serpent was so "sticky" that she broke out into hives after she touched it for the first time.
"Wearing the iconic outfit from her 'I'm a Slave 4 U' legendary performance, the Princess of Pop Britney is ready to entertain. This Pop! captures an iconic moment in music history while remaining timeless for any Britney fan," the official item description reads. You can head over to Amazon to pre-order the new Funko doll of Spears' monumental performance for only $10.99.
In December, Funko released their first Spears doll depicting her ...Baby One More Time school girl ensemble to commemorate the 20-year anniversary of her debut. Just last week, Spears celebrated the milestone with a short letter via social media. "Can you believe that this album was released 20 years ago today!! I can't. It's definitely been the journey of a lifetime, full of ups and downs, but I'm grateful for every single moment of it all. Getting to know you all over the years has been such an incredible experience, and has made this all worth it. Thank you for your support from 20 years ago, all the way to today. I am blessed," she captioned the 1999 album artwork.