Cardi B's NSFW Government Shutdown Rant Has Been Remixed Into A Song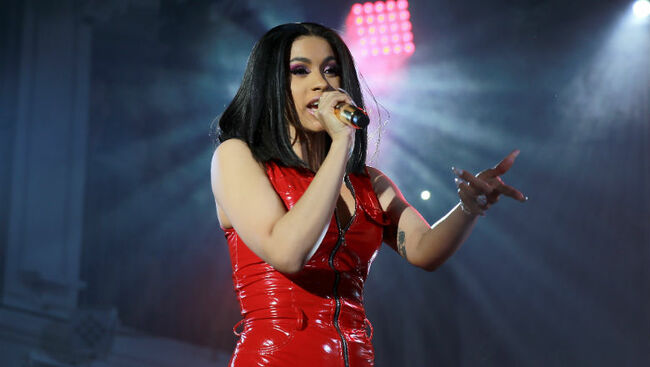 Cardi B caught wide-spread attention when the hip-hop titan vented about her frustrations with President Donald Trump over his government shutdown, so it was only a matter of time before the Internet blessed us with a song using her expletive-filled rant and it's pretty spectacular.
After Bardi went into detail about how unfair it was that the POTUS has ordered thousands of federal employees to get back to work during the partial government shutdown without pay, The Gregory Brothers remixed her rant into a song using the instrumental to "Bodak Yellow" and it's appropriately called "Yeah B*tch/ Nah B*tch." "So excited for our first co-write with @iamcardib, Yeah B*tch / Nah B*tch," the makers tweeted on Thursday (January 17). Scroll on below to listen to the viral track!
Earlier this week, Pepsi's just-announced 2019 spokesperson took to IG to slam the Commander-In-Chief and his administration's recent decision. "Trump is now ordering — as in summonsing — federal government workers to go back to work without getting paid," Cardi said in the clip. "Now I don't wanna hear you mohterf**kas talkin' about, 'Oh, but [Barack] Obama shut down the government for 17 days.' Yeah, b**ch, for healthcare! So your grandma could check her blood pressure and you b*tches could go check your p**sy at the gynecologist with no motherf**kin' problem."
"Now, I know a lot of y'all don't care because y'all don't work for the government or y'all probably have a job. This sh*t is really f**king serious, bro, This sh*t is crazy," she continued. "Like, our country is in a hell hole right now all for a f**kin' wall. I feel like we need to take some action. I don't know what type of action, b**ch, because this is not what I do. But, b**ch, I'm scared. This is crazy and I really feel bad for these people who gotta go to f**kng work to not get motherf**king paid."