Michael Buble Prank Sees Run-In With 'Modern Family' Star Eric Stonestreet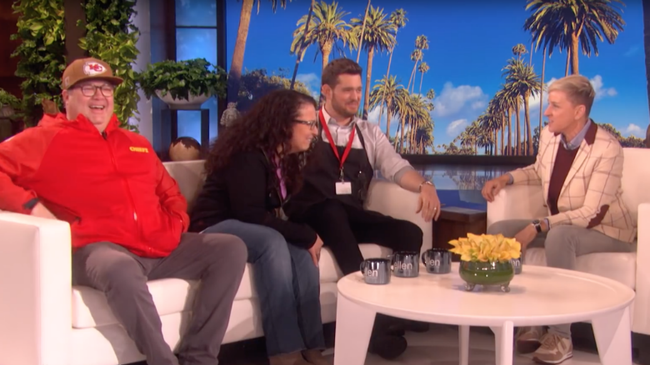 Michael Bublé was a good sport when he decided to go undercover as a cashier at a supermarket in Burbank, California, courtesy of Ellen DeGeneres at the helm of all the madness. Coincidentally, the daytime TV host's wacky instructions to the incognito singer also saw him cross paths with an unexpected customer: Modern Family star Eric Stonestreet.
"I smell something awry at my Handy Market," the 47-year-old actor said after his first few moments with the 43-year-old star alongside Stonestreet's girlfriend, Lindsay Schweitzer. However, it wasn't long before the actor called the singer out on his real identity. "I didn't want to say anything. You're such a talented guy, man."
Later on, Bublé came across an unexpected woman to DeGeneres' set-up and it was just a scene out of a Hollywood film, with the singer pretending to steal her credit card information, eating her bananas and telling her about his imaginary pet parrot. To make the hidden prank even better, all three of them took to The Ellen DeGeneres Show afterward to talk with the host about the scenario. "I feel like I just crashed a party by the way. How funny is it that this is what you think living in Hollywood is… 'Oh, famous people are running into each other all the time!'" the actor said in front of the audience.
It was such a coincidence that Bublé even thought that the host had turned the table on him during the prank. "I thought you were punking me for sure," he admitted. "My eyes got so big and I thought, 'Oh no, they're doing it to me!"