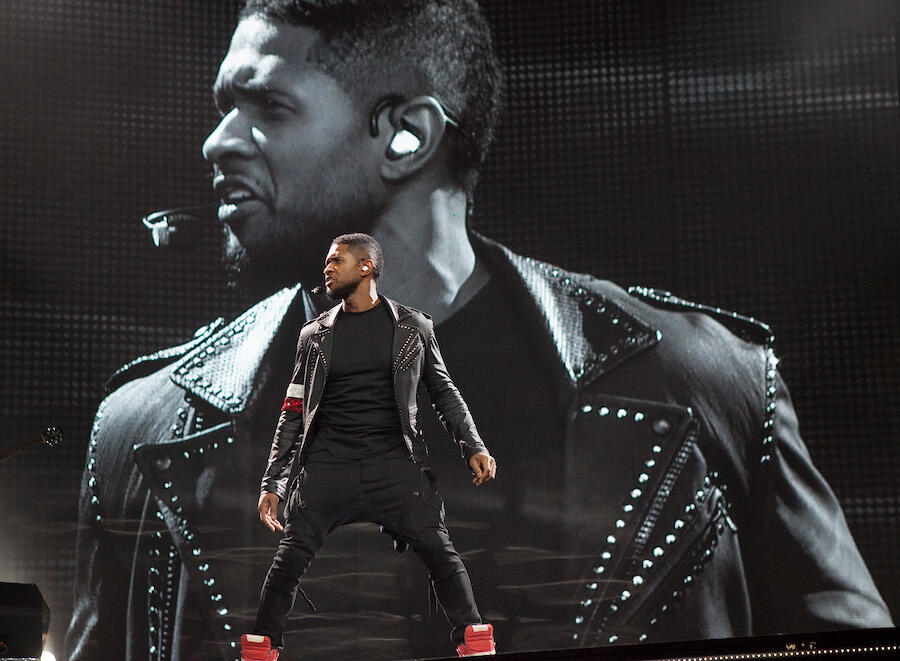 With a batch of hits, collaborations, and achievements under his belt, Usher remains the prototype for pop superstardom. However, with a career spanning almost three decades, there's plenty to learn about the former child star and we're here to help you brush up on that. In honor of iHeartRadio's new addition to iHeart90s, we're revisiting some of the superstars that rose to mega-fame during the decade and Usher happens to be one of them. Scroll on below to get to know the pop veteran just a little better!
1. His government name is Usher Terry Raymond IV.

2. He was born in Dallas, Texas. But, grew up in Atlanta, Georgia -- which he reps hard.
3. He was performing in local singing competitions by the age of 12.
4. He was discovered on Star Search.
5. He was on the Poetic Justice soundtrack at age 15 with his song, "Just Call Me A Mack."
6. In 1997, he rose to fame with the release of his second album My Way.
7. His third studio album 8701, produced two number-one singles, "U Remind Me" and "U Got It Bad."
8. Usher won his first two Grammy Awards with "U Remind Me" and "U Don't Have To Call."
9. He used to be vegan, but eventually quit because he found the practice too expensive.
10. He's won countless awards, including eight Grammys.
11. Usher's mom made him join the local church youth choir in Chattanooga when they used to live there.
12. Usher's mother quit her job as a medical technician to become his manager.
13. Although Usher split from his mother as his manager, he credits her for helping guide his career in the right direction.
14. RIAA ranks Usher as one of the best-selling artists of all time.
15. This is mostly due to his 2004 album, Confessions, which was one of the best-selling albums of the 2000s decade.
16. Not many people know that Stevie Wonder played keys on Confessions.
17. He has a leggero tenor vocal range.
18. He's part-owner of the Cleveland Cavaliers.

19. When Justin Bieber first started out in the business, Usher was the pint-sized pop star's mentor.
20. He lived with Diddy as a teen when he was starting off in the industry.
21. He's a major philanthropist and involved with Adam Braun's Pencils of Promise charity. Adam is the brother of Usher's pal, Scooter Braun.
22. Erykah Badu and Childish Gambino have covered "U Don't Have to Call" on their respective mixtapes, But You Caint Use My Phone, and Kauai.
23. In April 2019, Usher dropped "SexBeat," which features Lil Jon and Ludacris. It's their third song as a trio.
24. Additionally, the singer appeared on NBC's Songland and released the track, "California," featuring Tyga.
25. To partake in the Black Lives Matter movement, Usher released a standalone single called "I Cry" in late June. Proceeds from the sales of the track were donated to LISC (The Local Initiatives Support Corporation), which helps Black-owned small businesses and Black-led community organizations.
Photos: Getty Images