What Is The #LovePup Family Festival?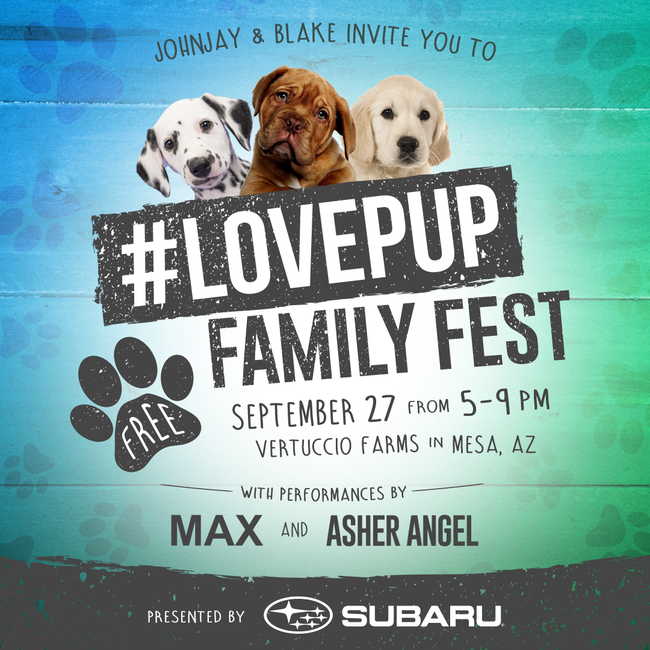 Adopt, don't shop!
#LovePup began with Johnjay Van Es, with the help of his wife Blake, and their three sons — Jake, 14, Kemp, 13, and Dutch, 10 — by transforming their home into a full-on dog rescue center. Taking in stray dogs from around the Phoenix area and providing them with medical attention, shelter and food, the Van Es family is dedicated to finding forever homes for their furry friends.
#LovePup was founded in 2015 with the goal of finding homes for stray or abandoned dogs that he and his family have taken in and saved themselves.Since it's creation, the Van Es family has rescued and found homes for more than 500 dogs, receiving the support of celebrities, such as Selena Gomez, Zedd and Enrique Iglesias along the way.
The #LovePup Family Festival brings together the entire Phoenix community to help save hundreds of dogs up for adoption as well as creating a fun place for families to gather. 
Bring the whole family for an evening of food, kids activities, live music and pet adoptions! Admission is FREE for the whole family and well behaved dogs are welcome! You won't want to miss performances by MAX & Asher Ang
Join us at Vertuccio Farms on September 27th from 5pm to 9pm!
Click here to see where Vertuccio Farms is!
Welcome Donations
*New and Unopened*
Dog Food
Puppy Food
Canned Food
Dog Treats
Bully Sticks
Dog Toys
Leashes
Collars
Dog Bowls
Paper Towels
Cleaning Spray
Medical Gloves
Laundry Detergent
Dish Soap
Trash Bags
Pedialyte (Dehydrated Pups)
*New or Lightly Used & Clean*
Please NO:
Rawhide
Smoked Bones
Retractable Leashes
Pillows
Sheets   

#LovePup Family Fest
Johnjay & Rich present The #LovePup Family Fest! Bring your dog and bring your family to the ultimate festival of the season! Adopt-a-dog or bring your dog for a fun afternoon filled with food, music and more!